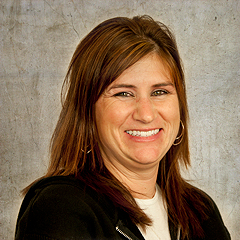 Alyssa Ivy is a speech language pathologist, who has been working part-time at Imagine since May of 2009, she is also employed by Bentonville Public Schools.  Alyssa lives in Bentonville with her husband, Charrell and 2 children, Aaron and Amanda.  Alyssa and her family moved to Northwest Arkansas in the summer of 2004; previously residing in North Little Rock where she graduated from the University of Arkansas with a Bachelor of Science in Education with emphasis on early childhood in 1994 and worked as a kindergarten teacher before pursuing her Master of Science in Commutative Disorders from the University of Arkansas for Medical Science in 2004.  Since graduation, Alyssa has been employed and provided contract services, in private therapy clinics, in-home therapy settings, and public school.
Alyssa has received trainings in the Debra Beckman Oral Motor Evaluation and Therapy Techniques, Kaufman Apraxia techniques, FRIEND Program, and TEACCH training for Autism.  Also practicing as a school based therapist, Alyssa has received additional trainings in literacy & mathematics in the classroom, IEP writing and implementation, and establishing daily schedules and functional living skills.
The Ivy's are a very busy family and love to be on the go.  They enjoy spending time with friends and extended family.  Their favorite moments are spending time together, either watching a movie at home, on the golf course, traveling, and of course watching the Razorbacks or the Pittsburgh Steelers! They have 1 dog, Jett, a black lab who is definitely a 5th family member!  They are members of First Baptist Church in Bentonville.