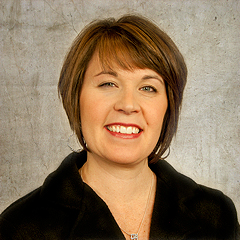 Jennifer Quinalty, a speech language pathologist, has been working at Imagine since April 2007.  Jennifer graduated from the University of Arkansas at Fayetteville in 1999 with a Bachelor of Science in Education and in 2001 with a Master of Science in Communication Disorders.   Since graduation, Jennifer has provided speech-language therapy services in a variety of settings to include school-based, hospital-based, home health, private clinic and contract settings. Jennifer also served as a per diem consultant for Prentke Romich Company.
Jennifer has extensive training and certification in the following areas: Beckman Oral Motor Evaluation and Therapy Techniques, The M.O.R.E. Program, Food Chaining, Kaufman Speech to Language Protocol, Carol Gray's Social Stories, Therapeutic Listening, INSITE, DynaVox and Prentke Romich augmentative communication devices, Sensory Integration and Autism.  Having practiced as a school based therapist for four years, Jennifer received additional training in learning disabilities, literacy in the classroom, hearing impairment and IEP documentation and implementation.
Jennifer has lived in Northwest Arkansas since moving back from Colorado in 2001. She currently lives in Bentonville with her husband, Mark and children, Cayden and Sydney. The Quinaltys' are a busy family. They enjoy spending time at home playing with their dog Sadie, going to the mall, hiking, reading, watching movies and visiting with family. They attend Fellowship Bible Church of NWA.